It might seem like an arduous task, but it's essential that you properly manage your organization's data in today's world. Luckily, some cost-effective software solutions can help data managers with everything from analytics to data migration.
<iframe width="960″ height="540″ src="https://www.youtube.com/embed/MAAz6zlr1eQ" frameborder="0″ allow="accelerometer; autoplay; clipboard-write; encrypted-media; gyroscope; picture-in-picture" allowfullscreen></iframe>
Between millions of people working and shopping from home, the rapid expansion of the Internet of Things, and the deployment of 5G technology, we're generating so much more data than ever before. According to IDC, a global market intelligence firm, 33 ZB of new data was created in 2018, and by 2023, they estimate 103 ZB of new data will be made. By the way, one ZB is equal to one trillion GB. IDC also found that 60% of organizations face data quality, integration, and governance challenges. This structured and unstructured data can be a gold mine if properly organized and analyzed— and that's where data management software comes in. Here are ten advantages of investing in data management software: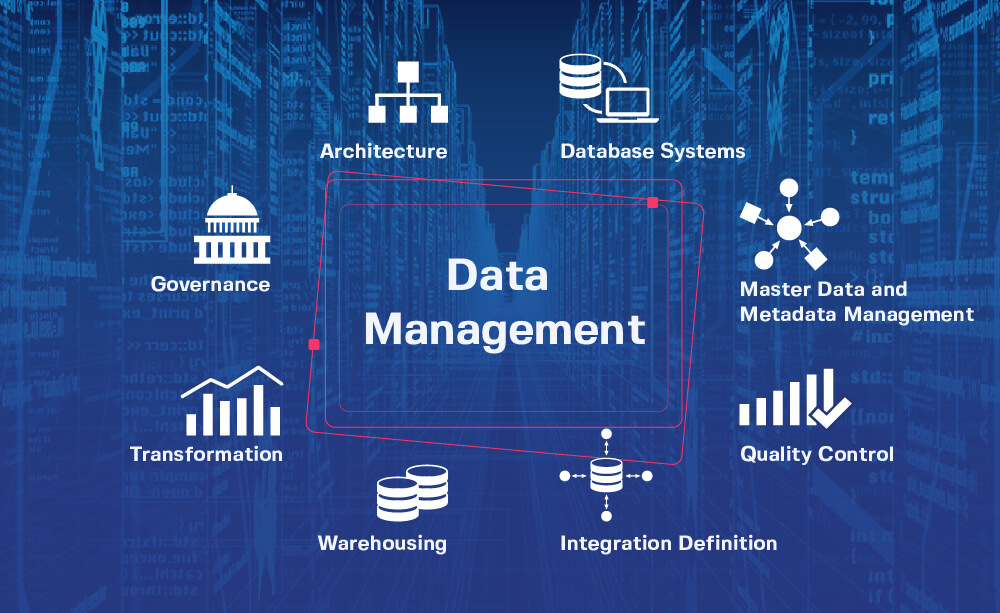 1. Keeps Things Consistent
When a business uses several different database systems to juggle its operations, inconsistencies, and duplications are inevitable. Data management software brings all of your data sources into a single data platform and creates a master record to use across departments.
2. Enables Collaboration
Having consistent master data enables seamless Collaboration across your entire organization. Easy drag-and-drop configuration and simple data management tools expand analytics access to your entire team, not just the ones with a detailed knowledge of APIs and SQL. With data management software, you can also create customizable, user-friendly dashboards.
3. Secures Your Databases
Strong data management software will improve your data integrity and security. You should protect your organization's sensitive data with end-to-end encryption, limited permissions, and frequent backups to a secure cloud like Amazon Web Services or Microsoft Azure. If you have employees working from home, ensure they use a secure internet connection.
4. Analyzes Big Data
Most datasets are too large and complicated for even the best data managers to sort through, but that unstructured data has a lot of value. The good news is that data management software includes robust analytics tools powered by machine learning and AI that can sort through big data and find key insights. Understanding the differences between MDM software providers is important, so comparing companies' capabilities is imperative to success. Luckily, industry analysts such as Gartner provide comprehensive reports each year to help IT managers make more informed purchasing decisions. The 2020 Magic Quadrant Master Data Management report was recently released by Gartner, which helps contextualize the
5. Improves Regulatory Compliance
Data management software can also be your data governance solution. Businesses and organizations must comply with certain data intelligence regulations like GDPR and HIPAA, and accurate and secure data collection is essential.
6. Boosts Productivity
One of the biggest use cases for data management software is increasing operational efficiency. Like with data governance, having consistent master data will improve the visibility and control of business operations. A centralized data platform can help you clarify cross-domain relationships and react to real-time data.
7. Optimizes Your Supply Chain
E-commerce professionals can use data management software to manage relationships with vendors and customers in the marketplace. Product data management ensures an accurate inventory assessment, and you can use predictive analytics to forecast market trends.
risk assessment

and identifying areas for improvement throughout the organization. Risk assessment is crucial to any business, and you can use visual analytics and other data management tools to spot any potential red flags quickly.9. Achieves Greater Insights
Data management software can deliver greater insights in real-time through machine learning, AI, and other business intelligence tools. Using predictive analytics, you can take a proactive—rather than a reactive—approach to your business.
10. Increases Revenue Growth
With all of these benefits in mind, it makes sense that using data management software can increase your revenue growth. You'll understand your customers better, so you can provide personalized marketing and upsell more effectively. Your customer service will also be more effective, which means you can increase your brand loyalty. This list barely scratches what data management software can do for your organization. Ensure your business doesn't fall behind the times, and start effectively managing your data today.